March 21, 2023 – Memphis, TN. Memphis in May International Festival kicked off the Salute to Malaysia by unveiling the 2023 Fine Arts Poster and releasing a slate of international programs honoring Malaysia tonight at the Renasant Convention Center. International performances, enriching exhibits, business programs, a film series, cuisine, an award-winning education program and the International Gala will bring Malaysia to Memphis this May.
"The unveiling of the Fine Art Poster serves as the unofficial kickoff for our international salute," said James L. Holt, President and CEO of Memphis in May International Festival. "Were thrilled to launch this year's salute to by unveiling a compelling and beautiful work of art by Memphis artist Kong Wee along with a broad array of international programs designed to introduce Memphis to Malaysia."
The original work for the Fine Arts Poster is watercolor on canvas and was created by Memphis artist Kong Wee. Kong moved to the United States in 2001 from multi-cultural Malaysia & Singapore after graduating from the Singapore Nanyang Academy of Fine Art. In Memphis, she received an MFA from the Memphis College of Art. In 2016, she co-founded Taropop Studio, focusing on public art and award-winning branding. She has shown her work in New York, California, and elsewhere in the United States, also Spain, Italy, Germany, Singapore, and Malaysia.
The Fine Art Poster is a popular element of the Memphis in May International Festival salute and is always produced by a local artist and offered as a tribute from our city to the honored country. The 2022 Memphis in May Fine Arts Poster is sponsored by Farris Bobango PLC. "Farris Bobango is proud to sponsor Memphis in May and the Fine Arts Poster," said John Bobango, "Memphis in May is important to our community in so may ways and we cherish the opportunities where we can support the greater good of our community."
The 2023 Malaysia poster is available for $35, with the limited edition signed and numbered collector's poster for $65 at 1910 Frameworks, the official framer of Memphis in May. The poster will be available at the Memphis in May office at 56 S. Front Street and online at memphisinmay.org starting May 1st.
International Salute to Malaysia – Programs
Programs honoring Malaysia include Malaysian Blues musician Azmyl Yunor on the Blues Stage on Beale at the Beale Street Music Festival May 5 & 6, JKKN Malaysia dance troupe at Malaysia Live! in Memphis at the Cannon Center May 11, exhibits at the National Ornamental Metal Museum, Benjamin Hooks Library, the Museum of Science and History, Cinema of Malaysia film series in collaboration with Indie Memphis, authentic Malaysian cuisine presented by Chef Ismail Ahmed at Chez Philippe on May 13, Doing Business in Malaysia and International Luncheon on May 10 and "Magical Night in Malaysia" International Gala on May 12 in the Skyway at The Peabody Hotel.
International sponsors include Valero Memphis Refinery and Premier Flowers. A complete list of programs and more information can be found at memphisinmay.org/events/international-salute-to-malaysia.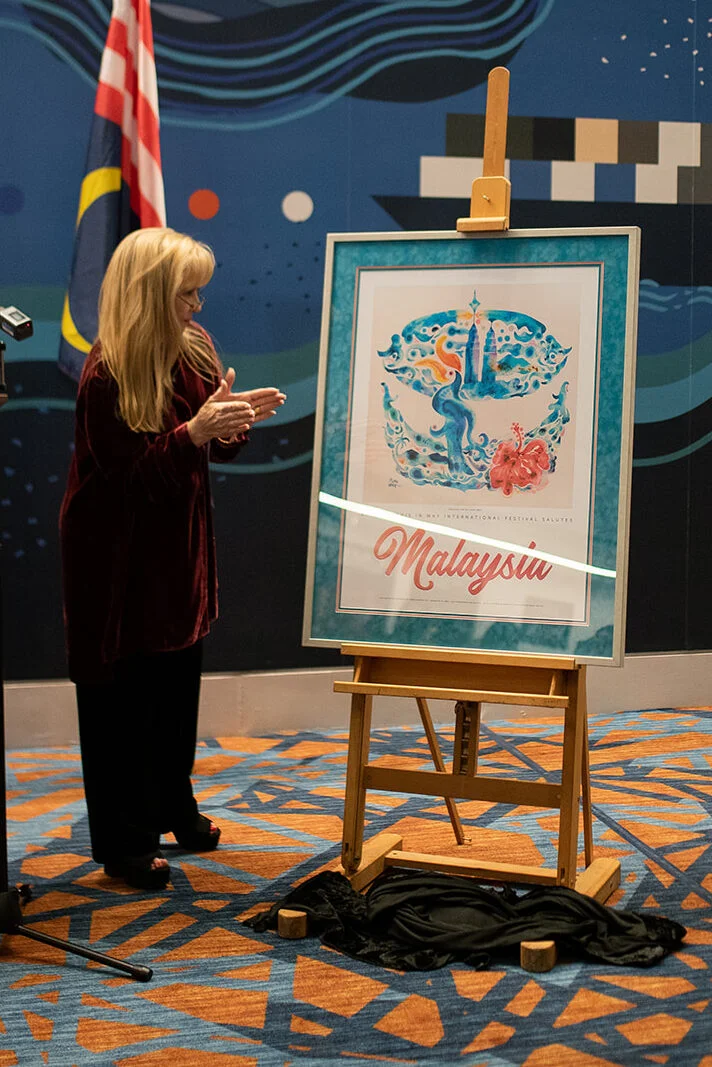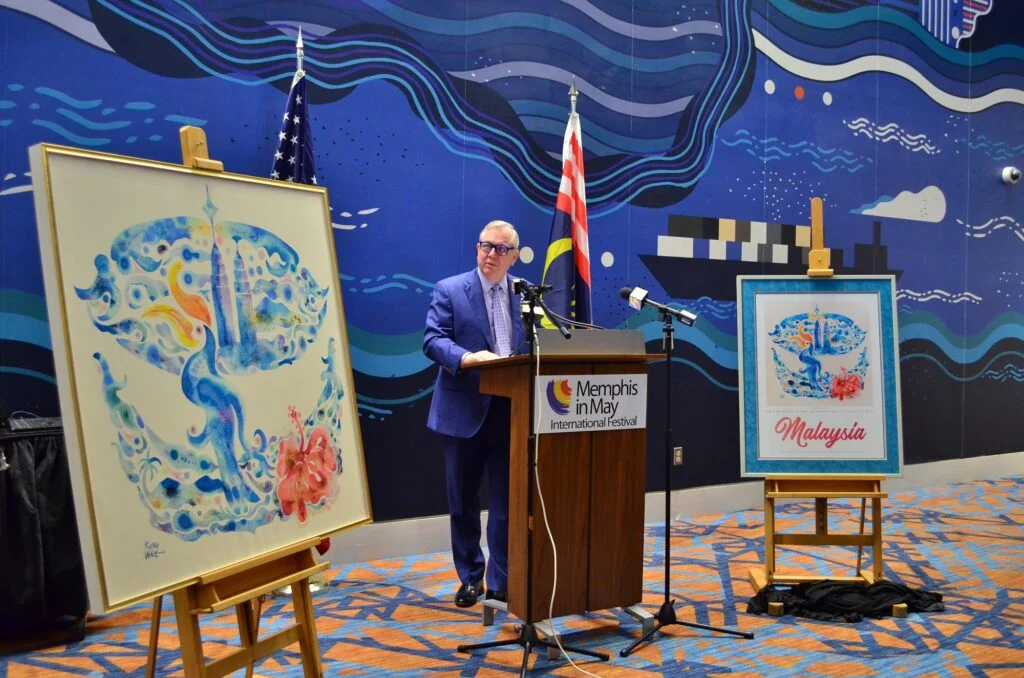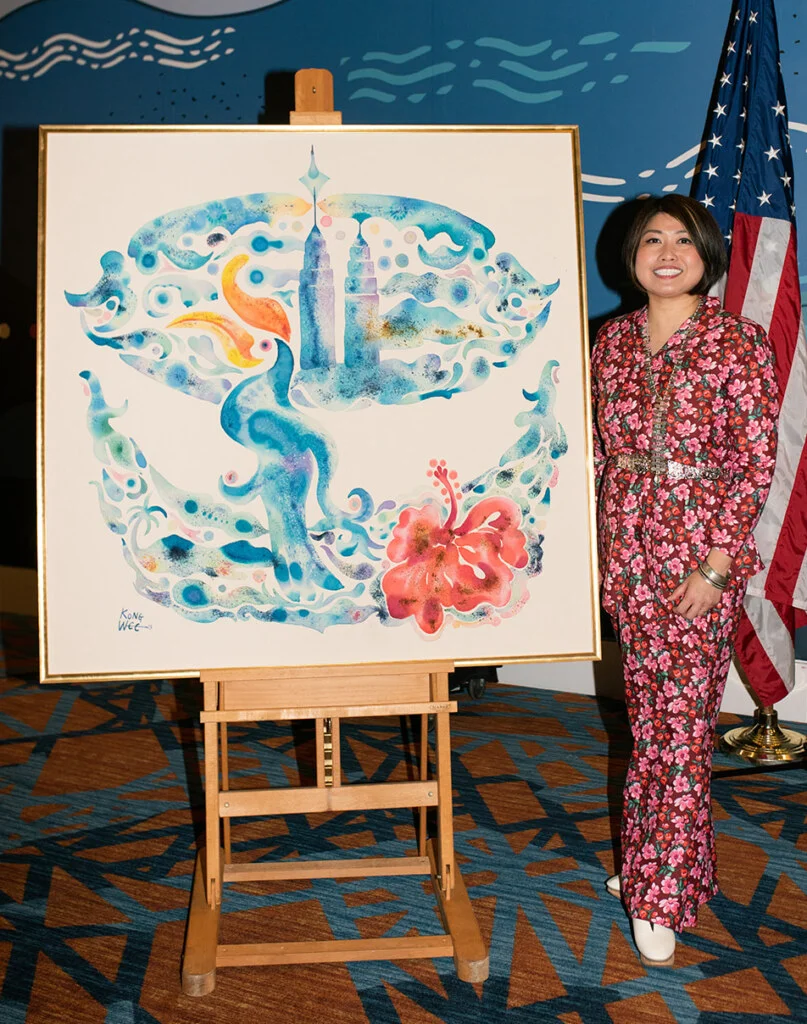 You can photos from the event on our Facebook page. This year's poster is sponsored by Farris Bobango PLC.