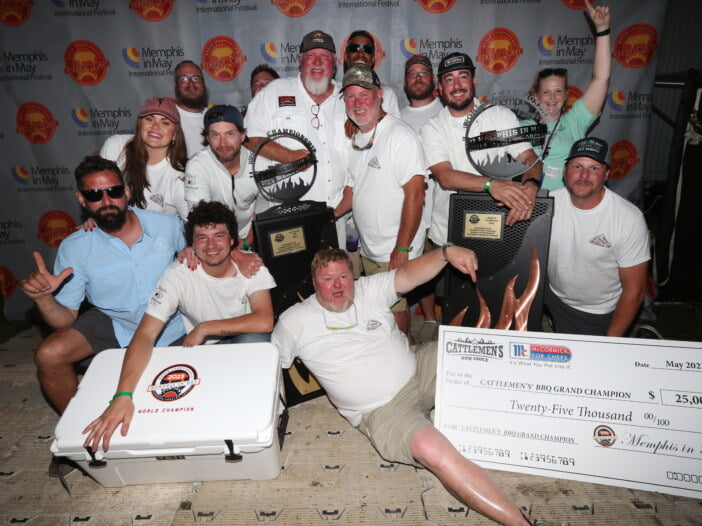 MEMPHIS, Tenn., May 20, 2023 – The best competition barbecue cooking teams on the planet gathered along the banks of the Mississippi River in downtown Memphis as they have for over four decades, for the annual Memphis in May World Championship Barbecue Cooking Contest. Memphis in May officials announced the winners of the organization's World Championship Barbecue Cooking Contest on Saturday, May 20th.
Ribdiculous Bar-B-Krew originally from New York City was named GRAND CHAMPION for the World Championship Barbecue Contest by taking the top honor with their championship entry in the Ribs category. For the first time in 22 years the Rib category won Grand Champion. As the Grand Champion they take home $25,000 in cash prizes plus $11,000 for their Ribs first place win. The team has competed since 2009 and tonight's award is their first primary category win catapulting them to the top.
First place in shoulder went to Sweet Cheeks, first place in Whole Hog went to Hometown BBQ and first place in Ribs went to Ribdiculous Bar-B-Krew.
150 competition cooking teams from three foreign countries, twenty-two states and Puerto Rico vied for over $140,000 in cash prizes along with the priceless bragging rights from winning the Memphis in May World Championship Barbecue Cooking Contest.
Already the world's largest and most prestigious barbecue cooking contest, this year's event back on the river generated excitement and buzz. Food Network was on site filming season two of the hit show BBQ USA starring celebrity chef Micheal Symon. Emmy-nominated actor and producer Anthony Anderson and renowned actor, producer, and comedian Cedric The Entertainer attended the festival to learn from the best pitmasters in the business as they take their love of barbeque to the next level to start their own barbeque empire, AC Barbeque and will appear on A&E.
A complete winners list can be found at www.memphisinmay.org/wcbccwinners.