The Great American River Run 2023
Memorial Day Weekend
The 2023 Great American River Run will take place on Saturday May 27th over Memorial Day weekend in downtown Memphis and along the Mississippi River.
Whether its the half marathon, 10K, or 5K, sign up early for the lowest registration fee of the year. The longer you wait, the more you'll pay, so register early to save!
There is over $8,500 in cash prizes for the fastest runners! This year we've added the 10k and 5k in the dash for the cash.
Everyone who crosses the finish line will receive a beautiful medal, race shirt and an invitation to our famous post-run after party with plenty of real food … and beer!
Parking on race morning/day is not included. Click here to find option for race day parking.
Follow us on Facebook to stay for all of the latest GARR 2022 news!
Check back for 2023 registration information!
HIDDEN BLOCK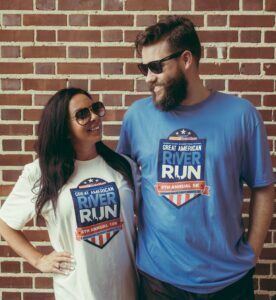 HIDDEN BLOCK
Complete Road Closures – May 28th, 2022
Road closures from 12:01 a.m. until 1:00 p.m.
All lanes of Riverside Drive from West Carolina Avenue to Union Avenue.
All lanes closed of South BB King Boulevard from Lt. George W Lee Avenue to Peabody Place
Beale Street from South BB King Boulevard to South Fourth Street
Rufus Thomas Boulevard from Peabody Place to Fed Ex Forum
South Fourth Street from Peabody Place to Fed Ex Forum
Other streets on the course will have partial lane closure with MPD and volunteers directing traffic during the race.
For more detailed course information, click here.
For more information, email us at GARR@memphisinmay.org.
block is hidden
2021 GARR Results
THANKS for joining us on Memorial Day weekend. We had an amazing time welcoming over 2,300 runners from 38 states to downtown Memphis!
Main Results
Half Marathon Results
10K Results
5K Results
Awards Page
Click here to view/order your finisher photo from Blair Ball Photography.
Runners that placed in the top three in their category will receive a certificate by mail – congratulations!
Our Featured Sponsors