Culinary Arts of Malaysia
The Cuisine of Malaysia: Official Dignitary Dinner
THIS EVENT IS SOLD OUT
The dignitary dinner features a six-course menu of Malaysian cuisine prepared by celebrated Chef Ismail Ahmad.
Saturday, May 13, 2023 | Seating times available from 6:00 p.m. until 8:00 p.m. | Tickets: SOLD OUT
Chez Philippe, The Peabody Hotel | Honorary Chef: Ismail Ahmad
About the Chef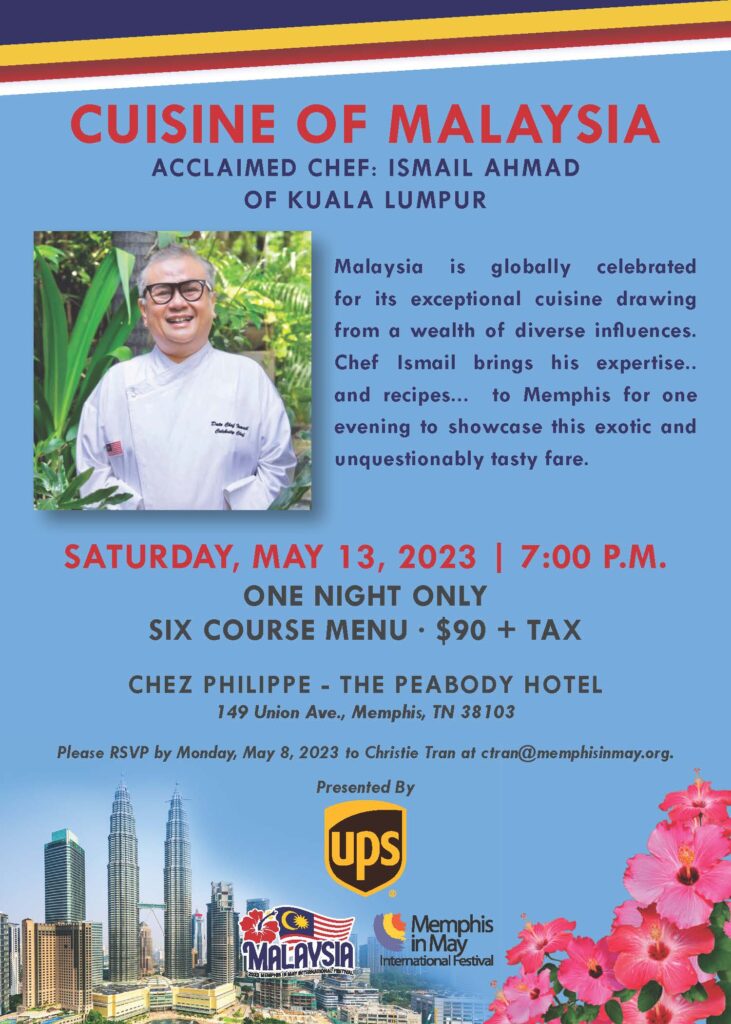 Originating from a small Malay village in Negeri Sembilan, Chef Ismail was introduced to cooking by his grandmother, an avid food lover and cook. Chef Ismail discovered his passion in trying out the herbs and spices and fresh produce from orchards which were growing in abundance around him. Looking back, Chef Ismail recollects that helping his grandmother in the kitchen has certainly helped to pave his career way in the kitchen.
After pursuing a Hotel Management and Catering qualification from the Mara University of Technology, specializing in Chef Training, Chef Ismail further expanded his skills with the Hilton International Kitchen Apprenticeship Programme for three years. Thereafter, Chef Ismail worked in the food industry and became a lecturer at Taylor's College in Food Technology and Kitchen Management for two years.
Chef Ismail was also the Chef in the industrial kitchen at KFC Holdings for seven years before becoming Executive Chef at Restoran Yasmin for a year. He then began his stint as a host for various programmes for local television. He derived much satisfaction and excitement from hosting programmes such as Aroma, Sri Murni and Kuih Raya on RTM1; Hey Good Cooking, Wok and Roll and Makan Tap Diet on RTM 2; Riang Ria Bersama Cornflakes and Jom masak Bersama Sri Murni on TV3 and Ala-Ala Kampung on Channel 4 Astro. Apart from that, he was also explored to host Yok Buat Kuih Raya! On Suria Channel, TV12, MediaCorp in Singapore.
Chef Ismail joined MATRADE on its tour to the United States of America, the Middle East and Europe to promote Malaysian food ad products. His involvement with the Ministry of Agriculture lies in the promotion of Malaysian fruits and food in Amsterdam.
Chef Ismail also cooked Asian food at the Lady Jessy in Cannes, South of France for two years, as well as for theatre artists at the Watermill Art Centre in South Hampton, New York for two years. With Tourism Malaysia, Chef Ismail also used to travel to Japan, South Africa, Cambodia, and the United Kingdom conducting cooking demonstrations to promote Malaysian cuisine.
Apart from his expertise in cooking, Chef Ismail is also well-versed in food styling, and recipe creation and was appointed as a consultant to numerous new restaurants in town. Because of his expertise and understanding of the food industry, Chef Ismail was also the spokesperson for a few food manufacturing companies.
After his vast culinary experience and exposure over the years, finally his own restaurant Restoran Rebung. The food served in his restaurant is a tribute to the wonderful traditional recipes inherited from his forefathers. Chef Ismail vouches for the food and traditional origins, and the comforting taste of kampong fare from past memories. Polishing his skill from his past experience, complemented by chef Ismail's creativity in creating new cuisines, frequenters can definitely expect wonderful, exotic traditional dishes.
Chef Ismail also ventured into recipe book production to document and share his culinary experience in traditional Malay cuisine, ensuring that the invaluable national treasure will not diminish or be forgotten over time. On top of that, Chef Ismail is also the Malaysia Gourmet Ambassador from 1 June 2021 until 31 May 2023.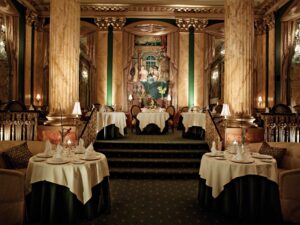 About Chez Philippe:
A world-class fine dining restaurant that's known for its inventive French cuisine, wine, and elegant setting inside The Peabody Hotel.
The Cuisine of Malaysia: Official Dignitary Dinner sponsored by