About Our Education Programs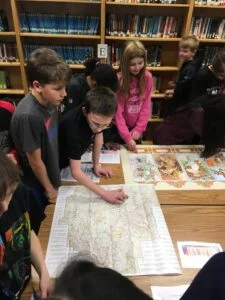 CREATING A GLOBAL CLASSROOM
Memphis in May International Festival believes that education is an integral part of our festival. International awareness is at the core of the Memphis in May International Festival's commitment to the education of the Mid-South community, children and adults alike. Each year, the area's youth immerse themselves in the culture of our honored country through our curriculum guide, student competitions, international exchanges, and more!
While Memphis in May International Festival fosters the education of an entire community, our focus begins on the youth of the area. Memphis in May's goal: by the time a student graduates from high school, they will have had the opportunity to experience the customs and cultures of 12 different countries from around the world. Each year, Memphis in May accomplishes this goal through an extensive and diverse youth education program offered to every student and school in the Memphis and Shelby County area, including over 200 city and county schools, dozens of private schools, and a very active home school association.
Our award-winning education program would not be possible without the support and assistance of corporate partners and our international friends. Educators, artists, and writers in the local community come together and give their time to judge the Festival's numerous educational contests. Memphis in May International Festival has been able to build relationships in the community that allow the education program to continue to grow, thrive and benefit the entire community.
Each year, Memphis in May provides a comprehensive educational review of its annual honored country to elementary, middle and high school teachers. Click the "Curriculum Guide" button above to learn more.
EDUCATION PROGRAM PHOTOS